Opportunities
»
Free Associate Membership
Products and Services
»
Super Solo Ads
»
Extreme Traffic Pack
»
12 Memberships FREE for LIFE
Free Stuff
»
Internet Marketing For Newbies
»
Solo Blast To 30,000 FREE
Free Traffic Packages
»
500,000 Mega Ad Credits
»
Promote To ONE Million
Brought To You By
Lisa Martiniuk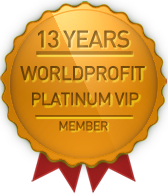 Published by: Lisa Martiniuk on 25-May-20
OK - I am Silver - How Do I Get Started
Doing quick review of just how quick and easy it is to get started with having your own business
Read Lesson 1, Lesson 2, and now on Lesson 3 –time 0942 hrs-
How to add your email – use Support Area 0949 hrs
Commissions, Bonuses, how to get paid, like clockwork on the 15th of the month – 0950 hrs
Workshop, Live Bootcamp Training, also always recorded if you can't attend – 0952 hrs
How to Search to Find Information – 0952 hrs
What should I do- Stay on Lesson #3 for at least a week – 0954 hrs
George is there for you Live to help you every Friday morning – 0956 hrs
Extra Video to help you get started – 0956 hrs
Now get going-how to start, how to promote, how do I make money – 0957 hrs
Organization is Key – write everything down; your username, password – 0959 hrs
Promote properly - use Ad Examples – Super important, only send Free Stuff - 1000 hrs
Silver package is all you need, do not ever think you need to purchase anything else – 1002 hrs
Support – how do I use it – 1004 hrs
Traffic Injections – lifetime, 18 ways to promote your own program(s)/ business – 1005 hrs
Total time spent just watching - 25 mins
Value of time spent watching – well worth it
Value of time spent actually implementing/doing it – critical
As your direct Sponsor, ultimately, this is where I "turn you over to George."
Granted, I brought you here, I am always available via email, and definitely more than happy to set up a time, place, avenue, whether it be via skype, phone, that works for both of us.
One thing I really want you to consider is I respect that you came here for your own reasons, as did I.
I will never inundate you with "my own stuff´; other than sending you an e-book, perhaps, of what or whom I am currently affiliated with, and advertising avenues I like.
This has worked immensely well for me. Literally, just inviting folks to join me, at what I consider Home.
Enjoy your Membership. You not only have 24/7 access to our Live Business Center, our entire Community, but as well, …. George and Sandi, I cannot thank them enough..
Video #2 –How Safelists and Traffic Exchanges Work - Start time 1147
Safelists -1149 – I love roboform
Email – 1150 – Importance of using gmail and how to use it
How to sign up for Safelists, save your info, including your username and password - 1155
Look for Promo Codes-free advertising – 1157
Check out banners, text ads, emailer, and how to do it properly, and benefit of Solo Ads – 1158
Must offer something for FREE. Do not try to just SELL something. Chances are it will not work, and you are just wasting your time and effort. Learn how to market properly.
Traffic Exchanges – differ a bit. Complete training video on each, and how to benefit from this.
Oh, so much automated advertising for you- (my hint – I just get these and let them run in the background- hence, making money in my sleep…well worth it, once you can afford it)
Tech Support Tickets – important just to organize yourself.
****this is my whole reason for sending you this – print it, check it off, add/revise it for yourself****
And once you are getting the results, feel free to share this with your own customers J
Wishing you every success, from your Worldpfrofit upline, direct sponsor
I hope you are now getting the idea that you truly made a wise decision to join Worldprofit for your own business/affiliate/non-profit/personal/make money online, the list goes on… interests, and will come to recognize, as I have, that, no matter what your current circumstances are..everyone needs a place to call HOME.
From my Home, to Yours
Lisa